Are you ready to make a move within your career in 2023? TFM can help you turn resolutions into real world work through our 4th Class Power Engineer training right here in Langley.
4th Class Power Engineer Work Opportunities
As a Power Engineer, someone within this field can expect to oversee a wide-range  of duties. These include maintaining concerns in various trades such as:
HVAC
Electrical
Mechanical
Carpentry
Welding
Within these trades, an engineer will help perform maintenance and repairs related to the structure itself, and the equipment therein. They will make repairs to plant systems, provide preventative maintenance to equipment of the facility, and ensure all machinery in their care is within compliance of codes and regulations.
It is truly a dynamic, fulfilling career in high demand – which TFM offers the training for.
Work as a 4th Class Power Engineer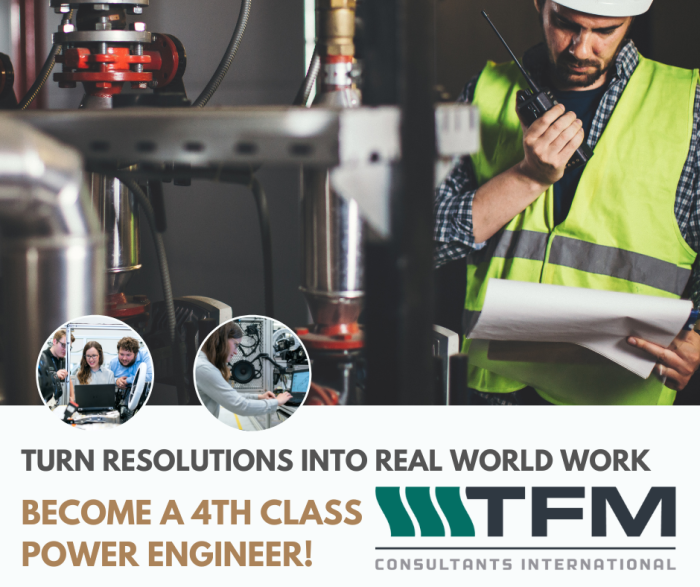 Curious what type of employment opportunities are available as a Power Engineer?
Click here to see a wide-range of options, or click to see -> all boiler operator jobs in Vancouver BC.
Our next 4th Class Power Engineer class is coming up on May 29, 2023 running until to June 23, 2023. It is held Monday – Friday from 8:30 am to 4:30 pm at our TFM Training Centre with Instructor – Mike Garcia.
With only 15 students accepted, classes fill up fast. So if you require additional information about any of our programs or services – please don't hesitate to contact us at info@tfmci.com or by calling 778-873-1050.
Seeking to FILL IN THE GAPS WITH TEMPORARY OPERATORS IN METRO VANCOUVER?
This year, it seems more people than ever are off with seasonal illnesses. Between sick days and vacation days, a temporary employee is an excellent option to rely on when your fulltime staff is away.
When it comes to essential services industries that Engineers are often are employed at, there is no stopping the machinery that supplies the energy, heat and overall power to a wide-variety of plants. Which is where our Temporary Engineers in Metro Vancouver come in to help.
Contact us to learn more.